The Rogers Trophy is awarded for the best record in national and international competition.
Named after Ernest Rogers, one of the Rogers Sugar family. He first played squash in the early 1920's on the John Fordham court which was built in the 1890's to English (international) specifications. It was located at Beach Avenue and Cardero Street. However, Mr. Rogers played on American courts in Seattle on several occasions, so in 1927 he built  the  'Rogers Court', the first North American court in Vancouver at 1789 Matthews Avenue.
In 1951, the Department of National Defence courts (accessible to the small playing fraternity) were turned into offices and for the next year, squash survived at the 'Rogers Court'. Irene Rogers, widowed by this time, very generously made her court available to the dozen or so active players at that time. The Rogers Trophy was later established by several of these players in appreciation of the contribution to squash made by both Ernest and Irene Rogers.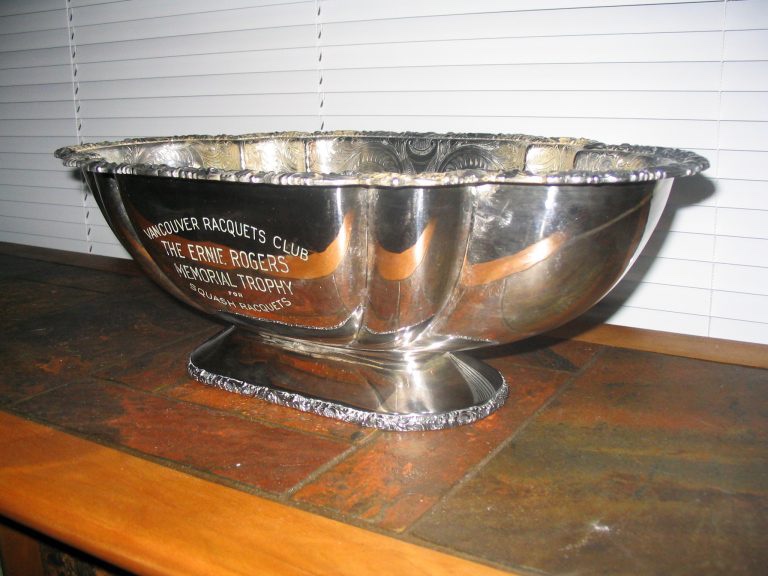 HISTORY OF RECIPIENTS

2019/2020
Lauren Wagner
2018/2019
Steve Jacobs
2017/2018
Laura Ramsay
2016/2017
Victoria Lust
2015/2016
Victoria Lust
2014/2015
Victoria Lust
2013/2014
Gerry Poulton
2012/2013
Tyler Olson, Zachary Leman
2011/2012
Abby Foster, Nicole Bunyan, Brynn Daniels, Lindsay Seginson
2010/2011
Gerry Poulton
2009/2010
Rashid Aziz
2008/2009
Carolyn Russell/Viktor Berg
2007/2008
Viktor Berg
2006/2007
Carolyn Russell
2005/2006
Lorrie Baildham
2004/2005
Not Awarded
2003/2004
Viktor Berg
2002/2003
Viktor Berg
2001/2002
Lauren Wagner
2000/2001
Jennifer Blumberg
1999/2000
Viktor Berg
1998/1999
Lauren Wagner
1997/1998
Lauren Wagner
1996/1997
Not Awarded
1995/1996
Peter Yik
1994/1995
Steve Lawton
1993/1994
Winston Cabell
1992/1993
Winston Cabell/Andrew Lynn
1991/1992
Joyce Maycock
1990/1991
Joyce Maycock/Jim Geddes
1989/1990
Not Awarded
1988/1989
Joyce Maycock/Andrie Bates/Deidre Smith
1987/1988
Jim Geddes/Darren Thomson/Trevor Thom
1986/1987
Trevor Thom
1985/1986
Joyce Maycock/Steve Lawton
1984/1985
Joyce Maycock/Steve Lawton
1983/1984
Steve Lawton
1982/1983
Sher Horne
1981/1982
Joyce Maycock
1980/1981
Michael Greenwood/Richard Jackson
1979/1980
Michael Greenwood/Richard Fleming
1978/1979
Tim Bale/Richard Fleming
1977/1978
Pat Richardson
1976/1977
Pat Richardson
1975/1976
Jane Cartmel
1974/1975
Pat Richardson
1973/1974
George Morfitt
1972/1973
George Morfitt
1971/1972
Neil Desaulniers
1970/1971
Martin Gibson
1969/1970
George Morfitt
1968/1970
Neil Desaulniers
1967/1969
George Morfitt
1966/1968
Martin Gibson
1965/1967
D. Foster